Meet Our Donors
Meet Our Donors
Gift Supports Aspiring Educators from Camden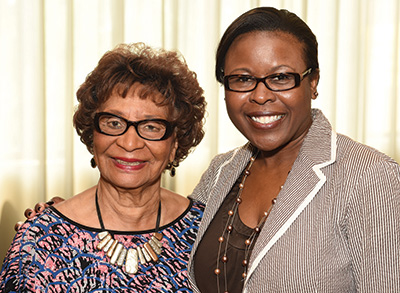 For most of her life, Riletta L. Cream '48 has made a promise to support Camden and the education of the city's youth, dedicating her life to serving others.
Now, thanks to her generous support, Camden students studying in Rowan University's College of Education will receive essential financial support as they work to attain their degree.
Cream, a former Camden County Freeholder and Camden native, established The Riletta L. Cream Promise Scholarship with a commitment of $40,000. The endowment will fund annual scholarships for deserving students from the City of Camden majoring in teacher education at Rowan. The awards will honor Cream's desire to prepare students to serve Camden and other urban settings.
"We are grateful for the generosity of Mrs. Cream," said Monika Shealey, dean of Rowan's College of Education. "This scholarship will ensure that individuals from Camden with a commitment to teaching have support and resources critical to their success. The gift is important as grooming City students to return to Camden's classrooms could build a model that could be replicated and be a solution."
Riletta L. Cream was a founding member of the Glassboro State College Development Fund, currently the Rowan University Foundation, through which she has decided to establish her personal legacy.
She received a B.S. degree in General Education from the University in 1948. She is proud of the students she is investing in and stresses the importance of cultivating gratitude, noting, "I want them to grow up to be young people who understand the value of thanking people."