Meet Our Donors
Meet Our Donors
J&J Snack Foods' CEO Shreiber Supports Aspiring Entrepreneurs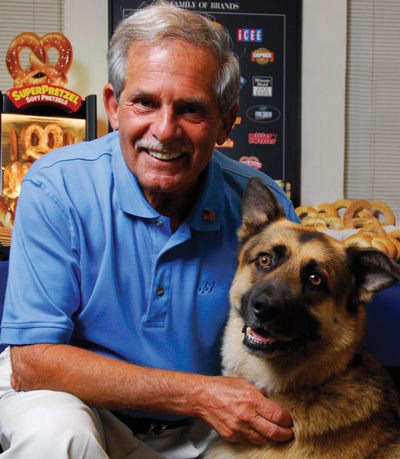 Gerry Shreiber, president and CEO of J&J Snack Foods Corp. of Pennsauken, has established a $100,000 scholarship fund to benefit undergraduate entrepreneurship majors in the Rohrer College of Business (RCB).
"In the last 20 or so years, the growth at Rowan has been transformational," says Shreiber. "The scholarship fund is a chance for me to be part of a bigger and better initiative for these students. I'm excited to be able to provide an education for some of them."
The scholarship provides $25,000 in funding each year for four years and is open to academically talented junior and senior RCB entrepreneurship majors. Ten $2,500 scholarships can be awarded each year. Thus, the fund has the potential to assist as many as 40 Rowan students in four years.
In 1971, Shreiber bought a bankrupt soft pretzel company with eight employees and $400,000 in annual sales and turned it into J&J Snack Foods. Today, the company boasts more than 3,000 employees and approximately $1 billion in annual sales, and has been recognized as a seven-time winner on the Forbes list of 200 Best Small Companies.
"This gift promises to create a bright future for deserving students as they pursue their dream of a business degree," said R.J. Tallarida, vice president for University Advancement and deputy executive director of the Rowan University Foundation. "We are indebted to generous friends like Gerry Shreiber who are deeply invested in making an impact in the lives of students in need."